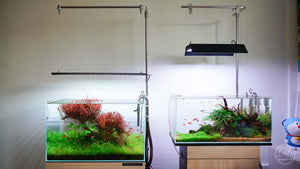 Pendant-style lighting is  gaining popularity in aquascaping. The elegant lighting solution will definitely enhance the attractive look of your aquascape. Refer to our newly launched collection of "Aquarium Lighting Stands and Hanging Fixtures" for multiple options of light hanging. Desk Mount Lighting Stand Cabinet Mount Lighting Stand Below are the video tutorials on how to install LitiAquaria Lighting Stands for both "Desk Mount" and "Cabinet Mount" models. Enjoy! Installation Guide for Desk Mount Lighting Stand: Installation Guide for Cabinet Mount Lighting Stand: Disclaimer: Under no circumstances shall LitiAquaria be liable to buyer or any third party for any consequential, indirect,...
---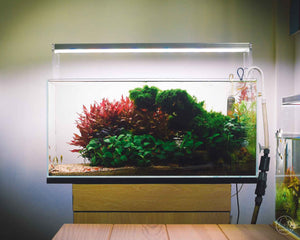 Creating a tree canopy under the water is always our dream. A cold-dry driftwood could transform into a lovely green canopy, what can give you more exited yet tranquil feeling than that?  It was all started when we found a piece of bonsai driftwoods from a local fish shop in Hanoi, Vietnam. That piece of bonsai driftwoods with great natural canopy shape struck us with a picture of an underwater world. The bonsai wood was then kept on the working table, where we can think about different scape ideas from it every day.   Finally, we decided to create an island...
---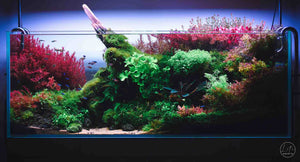 "The Valley of Harmony" was setup on a special personal occasion, Jacky's (our key scaper 😎) birthday in 2019. Since then, we have enjoyed this slice of nature for almost two years. The layout design was taken care of from all visible angles and not only from the front side.  A wide range of aquatic plants, driftwoods and rocks are combined in this aquascape to create a harmony habitat for living creatures inside the aquarium. There are about 40 types of aquatic plants growing healthily in "The Valley of Harmony", creating a colourful and dynamic scenery of an underwater world. Stem plants in...
---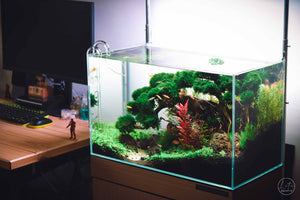 Han-kengai is a semi-cascade bonsai style. In nature, the tree is normally found in adverse conditions such as on the side of cliffs, along the slope of rivers, streams or lakes. Han-kengai thrives by holding tight onto the ground or clings on rocks with the trunk grows upright for a short distance and then turns downwards or side-wards. It is very delicate yet shows the resilience and spirit to face life. It is such an inspiration of positively overcoming those adverse conditions to thrive and grow. Fissidens Moss (Fissidens fontanus) is our favourite moss to create the tree canopy since it...